Today I am going to take a look at a gear bag which is rich in military style and function, but which still manages to look good with any casual look – the Maxpedition Fatboy Versipack .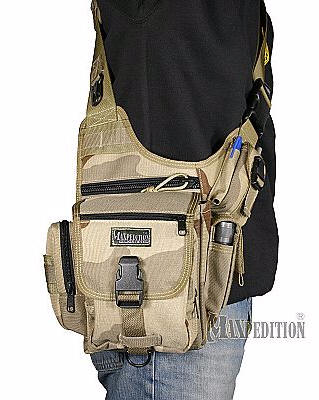 Photo courtesy of the Maxpedition site
I found the Maxpedition website one night while doing a search for a shoulder bag that could carry my gear on more casual days. At the Maxpedition site, I learned that the company "was established in 1988 as a small workshop fabricating hard-use military specification nylon gear. Today, [they] have grown into a company with 190 employees, in-house R&D and production facilities, and offices in North American and Europe. The main corporate facility is based in Gardena, CA."
Available in black, green, khaki, woodland camo, and desert camo, the Fatboy Versipack is aimed at people who carry lots of smaller sized items and would like to have specific pockets in which to hold all of their daily gear. This is not the largest bag that Maxpedition makes and it isn't going to carry a laptop, but it is a good size for someone that needs to carry their PDA, mobile phone, digital music player, some cables, assorted memory cards and adapters as well as other miscellaneous items.
I requested the bag in green, and when it arrived I was immediately impressed with how well made the bag
was. Its design is well thought out and the bag looks and feels tough! I was also impressed with how many pockets it had; I count a total of thirteen in all – more than enough to carry the items needed to get me through a typical day.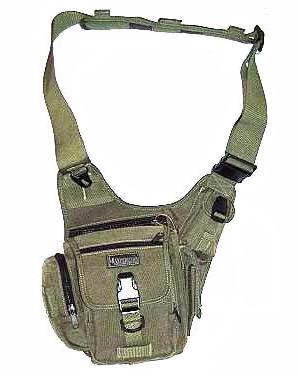 I knew before it came that the bag might appear a little bit masculine in person, but that was okay because I already had a plan in mind to "girly it up". I'll talk about that a bit later…and I hope the guys at Maxpedition will forgive me. ;0)
According to the Maxpedition materials information page, their bags are composed of 1000-Denier water and abrasion resistant, light-weight ballistic nylon fabric which has been coated with DuPont Teflon fabric protector. The various components of their bags are held together with high tensile strength composite nylon thread and all straps are made of high tensile strength nylon webbing. All Maxpedition bags use YKK #10 high strength zippers and zipper tracks and UTX-Duraflex nylon buckles.
The back of the Fatboy is covered in a padded olive green mesh, which is soft and comfortable against the wearer's body. The back side of the bag has a 3″ snapping loop which can be attached to the wearer's belt for added stability and security when needed.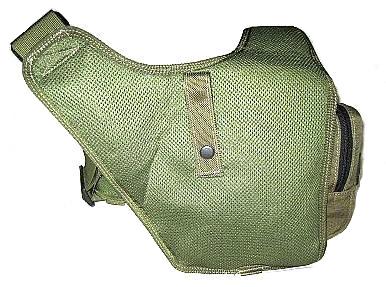 The main portion of the Fatboy Versipack's body measures approximately 10″ tall x 9″ wide x 4″ deep. There are four immediately evident pockets on the front – the middle main compartment, a tall zippered pocket on the left and a narrow Velcro secured pocket on the right. Sitting at an angle on the right shoulder strap is a mobile phone pocket.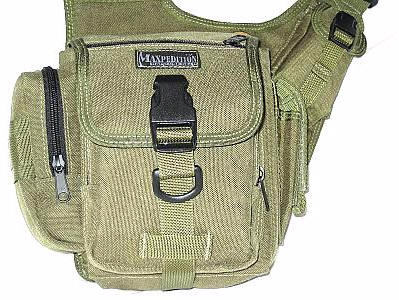 The middle compartment is secured by a snapping buckle which is on an adjustable nylon strap. This strap can be released or tightened depending on the user's needs…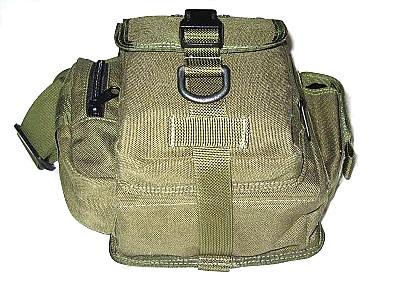 …by pulling the plastic D-ring attached to the nylon strap at the snap's base.
On the left side of the bag is a zippered compartment measuring approximately 7.5″ tall x 2.5″ wide and 2″ deep. This pocket is great for storing tall and thin items such as sunglasses, charging cables, digital music players, GPS units and the like. Notice the double nylon strap on the outside of the pocket?
Maxpedition bags utilize modular attachment function, which allows separately sold accessory pouches to be attached to the bag, adding even more pockets should they be needed.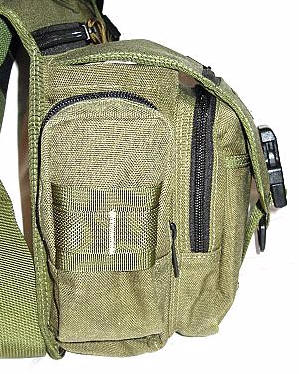 The 4.5″ tall x 1.5 wide x 1.5″ deep Velcro secured pocket on the right side of the bag seems to have been custom made for the Aurora Nichia Jupiter LED Flashlight which I recently reviewed, but it can also be used for any other tall thin item, such as a multi-tool or the BoxWave Battery Adapter.
Here is a shot of the Aurora in this pocket.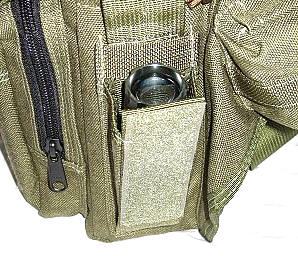 I ordinarily am not happy to see Velcro used on a bag, but on the Fatboy it is at least used in judicious moderation.
The front flap of the middle compartment has a zipper which opens into a thin 5″ by 8″ pocket. Since this pocket is built into the flap, smaller or more flexible items should be stored in this area. For instance I kept my keys here, but it could also be used for loose change, business cards, memory cards and other small items which are easily misplaced.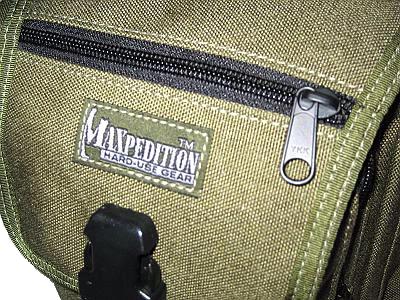 From this angle, it is possible to see the zipper which runs along the upper back wall of the bag. This extra large pocket measures approximately 11″ wide x 9.25″ tall at its furthest points.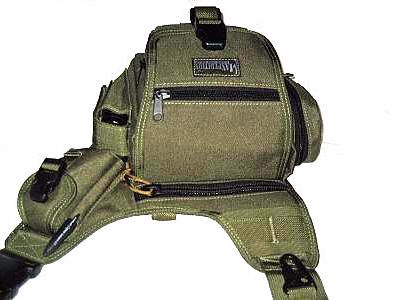 This large pocket is great for carrying longer wallets, passports, plane tickets, letters – anything tall and slim that won't necessarily fit in anywhere else.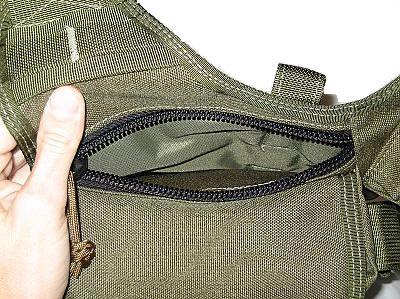 On the left side of the shoulder strap is another modular attachment point, with a metal snap above. This is the proper quick access point to carry a keyring, I just never kept mine there.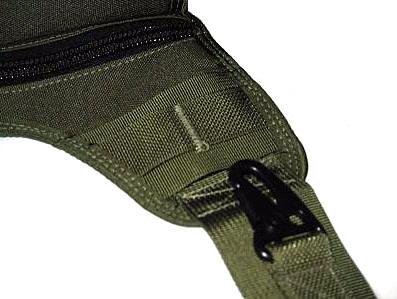 A removable 12″ long x 2.5″ wide non-slip shoulder pad is held in place on the adjustable nylon shoulder strap by three overlapping tabs of Velcro. Once the pad has been set in the proper place for the user, it will stay put without traveling up and down the strap – something that drives me crazy when it occurs.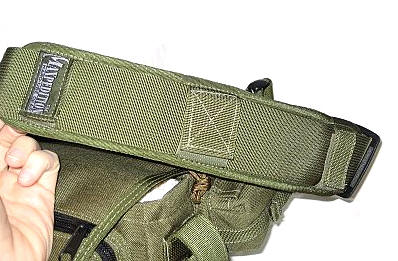 The built in belt loop really helps when the bag is worn as a waist pack, as it adds extra security and stability. The removable shoulder pad can be adjusted to fit any configuration, whether on the shoulder or on the waist.
On the right side of the bag is a large plastic quick release buckle. This allows the bag to be worn bandolier style, as a sling shoulder bag, or with a small bit of strap size adjusting – as a hip slung waist bag.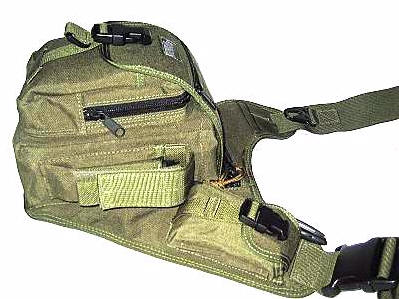 Also located on the right side is a 4.5″ tall x 2.5″ wide x 1.5″ deep mobile phone pocket which is kept secure by a small plastic clip. When I am in a big hurry to get at something, these type clips can be a pain because they never seem to want to let go or reconnect as easily as I think they should. But I digress…
My PPC-6700 is just thin enough to be held in this pocket, but since it is larger than the average mobile phone there there should be no problem fitting typical styles into the pocket. If you have a larger mobile phone or a PDA phone such as mine, this pocket can instead be used for holding a thinner digital music player or other similarly sized items.
On either side of the mobile phone pocket are two 3.5″ long open ended loops. These can be used either for holding thin pens and styli (which have pocket clips), or for looping a sunglasses arm through for easily accessible storage.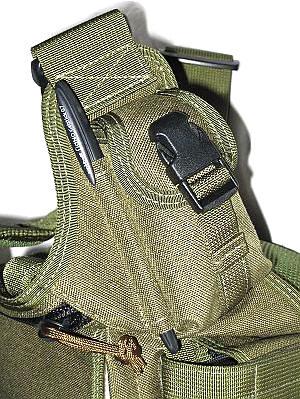 Once the snug plastic clip on the front of the Fatboy has been released, an interesting pocket scenario is revealed. There are actually two compartments hiding under that flip-lid, one kept secure by its YKK zipper, the other larger compartment by the water-resistant storm collar – a nylon drawstring with a locking plastic clip.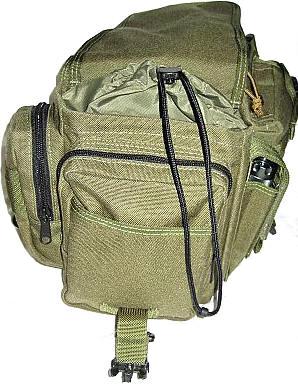 I admit that I wasn't sure what to do with the storm collar, as it seemed like a lot of fuss to get into the inner compartment. Fortunately, it can be left undone and flipped over to the side, or it can be tucked straight down, back into the pocket's interior.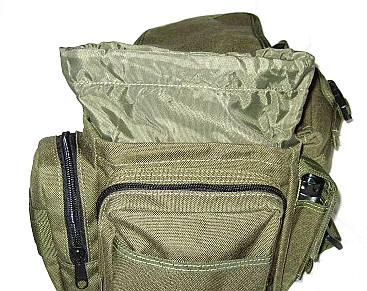 Inside this approximately 8″ tall x 6″ wide x 2.5″ deep pocket is a large open center area with mesh pockets on both the forward and rear walls. When the nylon storm collar is folded down into the pocket's interior, it will cover the tops of the side mesh pockets making them inaccessible. However, the storm collar is easily pushed out of the way when access is needed.
The central pocket area is perfect for carrying larger items that the wearer wants to keep safe and secure, such as a PDA, a small pair of binoculars, a GPS unit, a larger digital music player or other such similar sized items.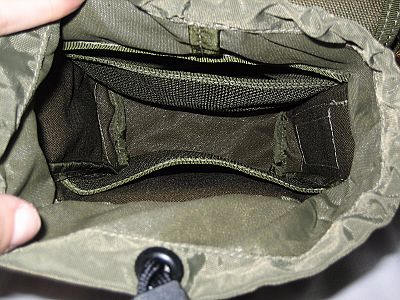 The front zippered compartment measures 6″ tall x 5″ wide x 1.5″ deep. Inside is another open mesh pocket which will help keep items separated.